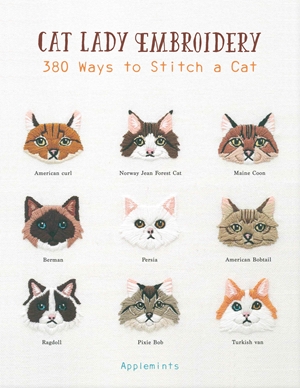 The Quarto Group has some great pet-themed new titles available.
If you'd like to show your cat-pride with a needle and thread, Cat Lady Embroidery offers a range kitten and cat patterns in different styles, shapes, and genres. It's a purrfect book for beginning or established embroiderists looking for fun and cheeky patterns.
In Doodled Cats and Doo
dled Dogs
, artist Gemma Correll provides inspiration and ideas for doodling a variety of different breeds in her fun, quirky style. The book includes sections on anthropomorphic animals, pets in hats, craft projects, and more!
I had a chance to review Doodled Cats. It's a fun, whimsical book that any artist can use for inspiration on making cute little cat doodles. My daughter loved it, of course, as both someone who loves cats and drawing. I liked the balance between examples and "you try it" exercises. Even I was able to create a few cute cartoon-like cats! The size of the book makes it great to take on road trips too, perfect for summer vacation.