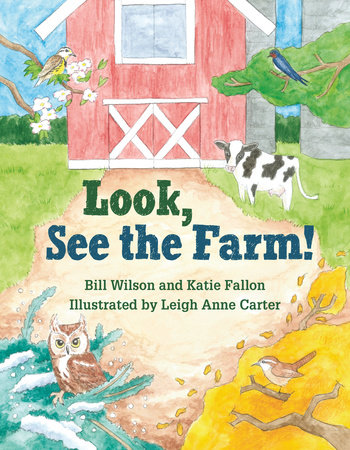 I recently had a chance to review
Look, See the Farm!
This book is a beautifully illustrated children's book that aims to help connect children with nature. In the book, two sisters visit their grandparents' organic farm throughout the year, discovering creatures on the farm (wild and domestic) and the changing of seasons. It's a gorgeous book, and makes a good educational introduction to a variety of creatures. The illustrations are beautiful and can lead to a lot of parent-child interaction with younger kids.
This book, along with Look, See the Bird, makes a great addition to the library of any parent looking for a way to encourage their kids to be more observant about the natural world around them.


About the Authors

Katie Fallon

is a nature writer, educator, and wild bird rehabilitator. She is the author of

Vulture: The Private Life of an Unloved Bird

and

Cerulean Blues: A Personal Search for a Vanishing Songbird

, which was a finalist for the Reed Award for Outstanding Writing on the Southern Environment. She has taught writing at Virginia Tech and West Virginia University, and is a founder of the Avian Conservation Center of Appalachia.



Bill Wilson

is the co-founder of Birds & Beans® Coffee and a consumer-marketing expert with over 30 years of domestic and international experience. Birds & Beans® Coffee is the only coffee brand in the US that solely roasts Smithsonian Migratory Bird Center 'Bird Friendly®' certified beans, 100% shade grown, organic and Fair-Trade certified coffee. The enterprise is a for profit conservation business aimed at helping stop songbird population drops. Birds & Beans conservation partners include the Cornell Lab of Ornithology and American Bird Conservancy.



Leigh Anne Carter

is a naturalist and freelance illustrator. After traveling to California to pursue an education for science illustration she moved back to her native city of Charlotte, North Carolina. She illustrated

The Birds of Mecklenburg County

and is involved in local conservation efforts and education.